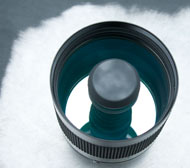 Welcome to Mirror Lenses.co.uk
Well done, you've found mirror lenses.co.uk...a resource for those interested in the infamous mirror lens.
Over the years mirror lenses have had bad press. They've been ripped apart in reviews for being unsharp, slagged off in technical forums for the "horrible" dough nut shaped bokeh and consigned to the cupboard by those who found the contrast as flat as a fart. The truth is, when used carefully, a mirror lens can be a useful tool and doesn't take up anywhere near the space that an equivalent focal length lens does.
So what are you waiting for, have a look around mirrorlens.co.uk. We've got the most
comprehensive database of the mirror lenses made, along with a gallery of photos taken with mirror lenses, and some full sized test pictures for you to check out. Over time we will bring you a collection of mirror lens reviews. We'll list the best sites to discover more info about mirror lenses, add provide some auction sites that list mirror lenses, point you at some stock in shops, and even list a few used models for sale directly from us.
The Mirror Lens team